PADI Open Water Diver Course e-learning Promo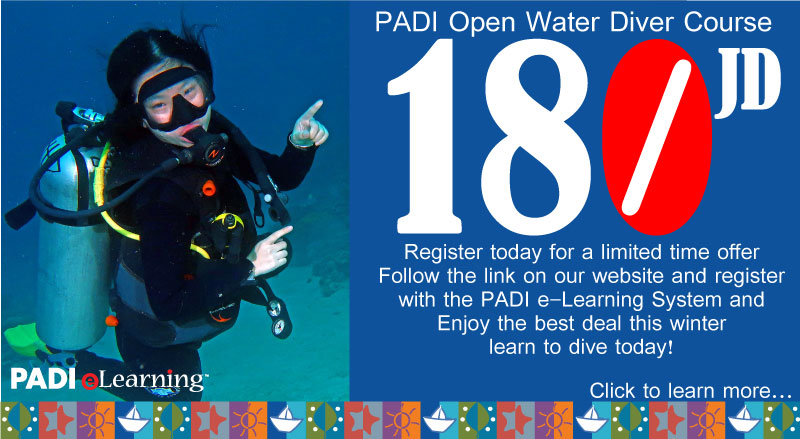 Come to the warmth this winter and enjoy this very special limited time offer and learn to dive in The Red Sea.
If you've always wanted to take scuba diving lessons, experience unparalleled adventure and see the world beneath the waves, this is where it starts. Get your scuba diving certification with the PADI® Open Water Diver course – the world's most popular and widely recognized scuba course. Millions of people have learned to scuba dive and gone on to discover the wonders of the aquatic world through this course.
To enroll in a PADI Open Water Diver course (or Junior Open Water Diver course), you must be 10 years old or older. You need adequate swimming skills and need to be in good physical health. No prior experience with scuba diving is required.
Can be completed in 3 - 5 days depending on the commitment and aquatic ability of the student. You must be at least 10 years of age, complete a medical history statement and have a medical consultation if required. You must be able to swim a distance of 200 metres and maintain yourself in deep water for 10 minutes.
Water skill sessions: These are conducted in sheltered shallow water. Here you learn and practice all the essential skills you need to scuba dive safely. The are five segments to this training supported by DVD which can be watched in the classroom prior to each session.
Open Water Dives: After you have mastered the basic skills you will then demonstrate that you can apply these skills on actual dives. There are 4 dives. The first 2 to a maximum depth of 12m and the last 2 to a maximum depth of 18m.
This will be your maximum depth until further training is completed (10/11 yr olds limited to 12m). During these dives you will be having fun as you learn and also discover the wonders of the Red Sea coral reefs.
This special promotion is valid if you purchase and register with the PADI e-learning system (click for link)
The Package Includes:
Knowledge Quick Review
Confined Water Training Sessions
Open Water Dives
Equipment Rental
Instructor Fees
Transportation to boat or shore dive site
The package does not include:
Book and learning material (included with the e-learning)
Certification (included with the e-learning)
Boat trip (optional)
Accommodation (optional)
Offer Valid Thru February 29th 2020