TecDiving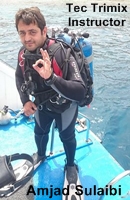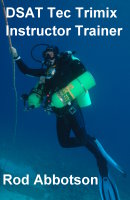 Our technical instructor trainer Rod Abbotson and technical instructor Amjad Sulaibi have extra technical specialty courses approved by PADI. We will introduce you to a wealth of new and unexplored dive sites in Aqaba. The tec team has also been recognised by Project AWARE for looking after the deeper environment here in Jordan with clean up tec dives and surveys. We would like to thank all the technical divers who give up their time to help us keep the deeper depths clean. In May 2016 Amjad succeeded in becoming the deepest Jordanian diver with a dive to 122m after a serious of 4 days preparation dives. He was accompanied by Rod Abbotson and Elliot Oppenheim. 
Dive Aqaba Tec Team members, Rod Abbotson, Mark Ellyatt, George Ionita & Huw Lovell performed a record breaking 167m dive in Aqaba in July 2011 supported by Seastar Diving team and the Navy We have several deep environmental projects running at the moment, removing old nets and fishing line from the deeper areas of the reefs, cleaning up trash that has drifted down to the depths and helping and advising on deep issues within the Aqaba Marine Park. See 100m Plus Dives!
After discovering the wreck of the Taiyong in 2004 our tec team has intimate knowledge of this wreck and can take your there easily and safely. We have spent several years surveying this vessel and know the best way to dive it for your level of training - as well as knowing where it is!! We now have the wreck of the Al Shorouk to dive scuttled on 18th June 2008.
Below is our full range of technical diving courses, We can also conduct instructor courses for all these levels..
Discover Tec   Tec Basics   Tec Sidemount    Tec 40   Tec45   Tec 50   Tec Deep  
Taiyong Diver   Advanced Wreck Diver   Tec Trimix 65    Tec Trimix  
Note: All rebreather diving has been suspended due to security reasons from September 2014. So for now you can complete Pelagian Air Diluent, Deco & Mixed Gas training up to 100m with us outside of Jordan. Photo: Lake Pleasant Arizona - March 2015.  Then in Eilat 10th-15th January 2016. Courses can be conducted in Eilat up to 60m and Dahab up to 100m at any time with prior notice. Contact us for details.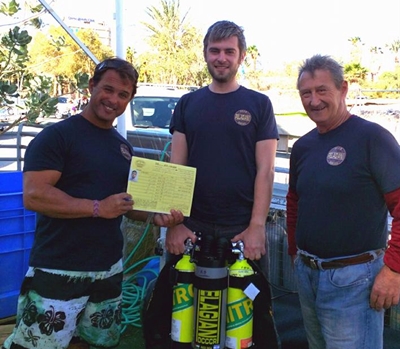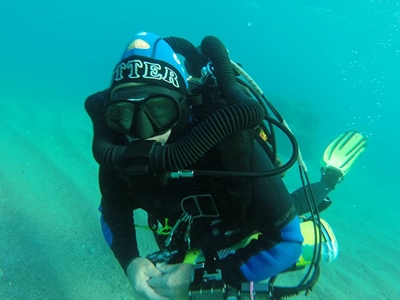 Pelagian courses are now run in Eilat Israel together with Eyal Sayag, also a Pelagian Instructor and Deep Siam Dive centre, these provide ideal conditions in which to learn how to dive the Pelagian.
Another successful Dahab trip this summer (August 2016) for some great bubble free diving.