Can you handle a twinset?
If you are interested in Tec diving, Why not have a play in our techncal dive equipment? "Flying" a tec wing is very diffrent from recreational diving with a BCD and our technical instructors will show you the ropes, allowing you to practice some of the skills that you can credit towards a Tec 40 course. You can also complete just one more dive and some theory with your instructor to gain the Tec Basics certification which can count towards your Master Scuba Diver (The Black Belt of scuba diving).
This is also a good idea if you are finishing you dive early because you are low on air! With a twinset you have loads of gas! If you are a qualified Enriched Aoir Diver you can use Nitrox in the twinset extending your no decompression limits - having plenty of gas to use the advantage Nitrox gives you. If you are an underwater photographer this gives you the time you need to compose your shots. No more rushed shots because you are running low on gas. You also have a complete back up system for peace of mind, giving you the option to complete a Self Reliant Diver course with a twinset.
Discover Tec - Course duration 1 day.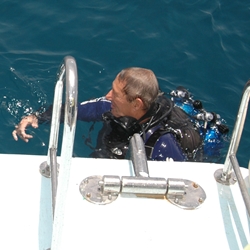 Prerequisites: 
PADI Open Water or equivalent
Have a minimum of 10 logged dives.
Be 18 years old.
What will you learn?
Basic tec diving procedures
Setting up and adjusting gear for fit and comfort
Simply explore and get a feel for the equipment