If you start your course at home you can complete the Open water dives with us in Aqaba. You need to be at least 10 years of age, complete a medical history statement and have a medical if required. Also please bring your referral forms with you and any other documentation your Instructor gave you.
Open Water Dives:
Having mastered the basic skills you will then demonstrate that you can apply these skills on actual dives. There are four open water dives with a maximum depth of 18m. (10/11 yr olds limited to 12m). These can completed in two days leaving you time to continue your diving education by completing
Adventure Diver
(one day) or
Advanced Open Water Diver
(two days) on the same holiday.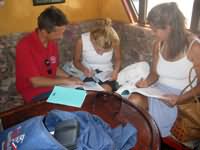 " If you are in the UK we recommend that you go to
London Scuba and start your adventure now!"