Everette Ingram
Everette started diving in 1993 in the United States. He has dived in the Caribbean, Latin America, South Africa, Kenya, The Middle East, Malaysia, Thailand and the Philippines, finally receiving PADI's highest non-professional rating, Master Scuba Diver. Since 1995 he has been living in Aqaba, and became a PADI Instructor with Dive Aqaba in 2005. He has certified over 700 divers to date with over 400 specialty courses. Because of his interest in promoting diver education he has one of the highest continuing education ratios in the region at 85%. He has helped over 25 divers achieve their Master Scuba Diver rating. Within PADI International fourteen of his students were chosen during the PADI Specialty of the month promotion in 2006 & 2007 making him the most recognized specialty instructor in this PADI territory and earning him another instructor award from PADI for the most Master Scuba Divers taught in 2007. In 2009 he achieved his Silver Course Director status while working with Dive Aqaba.
Everette is now working in Ecuador
Diving Qualifications:

PADI Silver Course Director #636362
Emergency First Response Instructor Trainer
EFR Manual Handling Instructor
PADI Tec Trimix Instructor Trainer
PADI Tec Deep Instructor Trainer
PADI Trimix Gas Blender Instructor Trainer
PADI Tec Support Diver Instructor
PADI Taiyong Diver Instructor
Dolphin Semi Closed Rebreather Diver
Course Director Training
In March 2008 Everette attended the Course Director Training course in Malaysia making him the fourth PADI course director in Jordan. He liaises with the PADI International Limited (PIL) office with the marketing department on specialty of the month/year and Master Scuba Diver challenge promotions. He is featured in the first quarter 2009 Undersea Journal - the magazine for PADI members.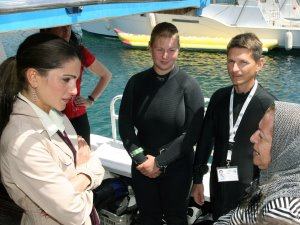 Also Specialty Instructor Trainer for...

AWARE Specialty
AWARE Coral Reef Conservation
AWARE Fish Identification
Boat Diver
Clean Up Diver
Deep Diver
Digital Underwater Photographer
Drift Diver
Dry Suit Diver
Emergency Oxygen Provider
Enriched Air Diver

Dive Aqaba Tec Team
Everette was also a member of the Dive Aqaba Tec Team and was with Rod on the first Trimix Dive in Aqaba in 2007. He helped out with Aqaba Diving Services, our commercial wing of the operation where we are called out to complete underwater tasks that are beyond the limits of the Navy and commercial as diving companies in Jordan. While at Dive Aqaba he completed his instructor and instructor trainer for PADI Tec Trimix Diver and rebreather training on the Dolphin Semi - closed unit.
Equipment Specialist
Multilevel Diver
Night Diver
Reef Diver
Research Diver
Search and Recovery Diver
Underwater Cartographer
Underwater Naturalist
Underwater Navigator
Underwater Photographer (instructor only)
Wreck Diver