Omar Madain
Omar has been a friend of Dive Aqaba for many years and is now working as a freelance instructor. You will meet him on our boat when he brings his student divers and guests to dive with us. Omar is a great underwater photographer and this is now his main hobby when not teaching diving. He is also now featured on a Jordan National treasures promotion regularly broadcast on Roya TV.
Right click and save as...or save file as. ENJOY!
Omar and the Turtle
22.5mb - 2 min 45 secs

Must see vid!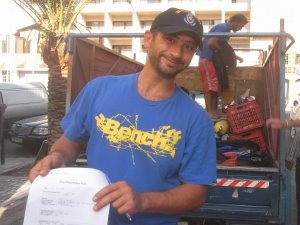 Qualifications
PADI Open Water Scuba Instructor #270601
PADI Digital Underwater Photography Instructor
Strange Species Specialty Diver
Extreme bubble ring maker
Air pocket Specialty diver
Cousteau Society Award
(for advanced underwater falafel eating)
Currently in a relationship with Lucy the turtle