Rod Abbotson
Rod started diving in 1979 with BSAC, and dived extensively in the UK. He became a BSAC Instructor in 1983,and went out to Sardinia to work as a diving officer on an Archeological research vessel MV Anoelle. He remained in Sardinia and opened
Club Sardive
in 1986, continuing in archeological research working with the University of Sassari. During this period Rod discovered 23 undived wrecks after much painstaking research back in the UK. While in Sardinia he became a BSAC Advanced Instructor.
He became a PADI Instructor on his return to the UK. He moved to Jordan and the Red Sea in 1993 to manage
Seastar Diving Centre.
In 2000 he became the first PADI Course Director in Jordan.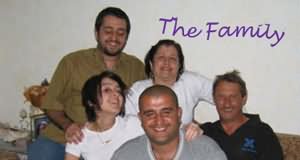 Diving Qualifications:
PADI Silver Course Director #69259
PADI Tec Trimix Instructor Trainer
PADI Tec Deep Instructor Trainer
PADI Gas Blender Instructor (Trimix)
PADI Advanced Wreck Diver Instructor Trainer
PADI Self Reliant Diver Instructor Trainer
PADI Taiyong Specialty Instructor
AWARE & PPB Instructor Trainer
Emergency First Response Instructor Trainer
EFR Care For Children Instructor Trainer
TDI Pelagian CCR Mixed Gas Instructor
PSAI Pelagian Explorer Instructor
The birth of Dive Aqaba
In 1996 he married Laila Manna, with her three teenaged children, Ashraf, Enas and Amjad, whom he taught to dive; Ashraf became a PADI Instructor in 1997. In 2002 Rod and Ashraf opened Dive Aqaba. Rod has since concentrated on instructor development, environmental awareness and pioneering technical diving in Aqaba. He introduced Nitrox to Jordan while at Seastar Diving Centre. He also pioneered technical diving in Jordan and ran the first technical courses here at both user and instructor level in 2004. Dive Aqaba is still the only center in Jordan offering technical diving. Rod introduced trimix diving to the country in 2007. Dive Aqaba received an award from PADI for the Best Specialty Training center in Jordan. Rod also pioneered rebreather diving in Jordan in 2007. To date Rod has trained over 3000 divers, 2500 with PADI including over 300 Instructors.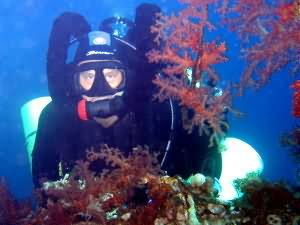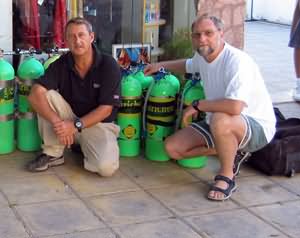 Also Instructor Trainer for...
AWARE Fish Identification Instructor
Clean Up Diver Instructor
Deep Diver Instructor
Digital Underwater Photography Instructor
Enriched Air Diver Instructor
Equipment Specialist Instructor
Reef Diver Instructor
Research Diver Instructor
Search & Recovery Diver Instructor
Underwater Cartographer Instructor
Underwater Naturalist Instructor
Wreck Diver Instructor
Exploration and development of diving in Aqaba
In 2004 Rod discovered the wreck of the Taiyong which lies in technical diving depths during a dive to check the Marine Park Boundary Buoys. Since then he wrote the first Technical Distinctive Specialty Course and had it approved by PADI in 2005. The exploration continues and environmental research continues. We became an official Coral Watch operator in 2007 and our tec team received an environmental award from Project AWARE. Rod has also pioneered
rebreather
diving in Aqaba with the help of
Philip Barawitzka
. We can now offer full trimix training to instructor level with PADI and CCR courses on the Pelagian rebreather.
Instructor for the following Specialty Diver ratings...
Boat Diver
Diver Propulsion Vehicle
Dolphin Rebreather Diver
Drift Diver
Dry Suit Diver
Multi Level Diver
Night Diver
PADI Emergency Oxygen Provider
PADI Tec Basics
PADI Sidemount Diver
Underwater Navigator
Underwater Videographer

Some notes from Rod:
On the exploration side of things there seems to be four deep valleys running to the coast in Aqaba. Three are in the Marine Park. They are basically Big Bay, Wreck Bay and First Bay the fourth is at the Power Station Dive site. These valleys provide for a wide variety of tec diving with extremely varied topography. The light penetration is amazing here, also at depth the clarity of the water improves as you get below the plankton layer. After successful completion of a deep recovery mission for the Jordanian and US Navies we introduced trimix to Jordan, this has opened up huge areas for exploration in deeper zones, maybe we will find more wrecks? On July 29th 2011 Mark Ellyatt and I made a successful dive to 167m off the Power Station dive site. We used Pelagian rebreathers piggy backed onto twinsets for safe bailout from depth. Deep support at over 100m was provided by
George Ionita
also using a Pelagian rebreather. Support from 80m to the surface was provided by a team of support divers who had been in Jordan training the special forces here. This made a new depth record for Jordan...
find out more.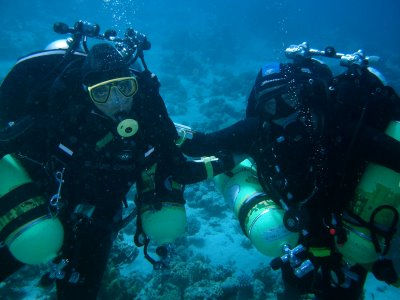 Other Stuff...
TDI Instructor #14713
PSAI Sport & Technical Instructor #1313
BSAC Advanced Instructor #867
CMAS Three Star Instructor #1217
TDI Pelagian CCR Advanced Mixed Gas Diver
HSE Part Four Commercial Diver
RYA Off-Shore Skipper
Advanced Marine Biology (City of London Polytechnic)
Taking care of the reefs
On the environmental side of things we are slowly getting the reefs cleaner by cleaning out trash on every dive we make - why wait for clean ups? Also there seems to be less rubbish getting in the water from the beaches as the coast line is developed. This means we have to go boat diving as access from the shore is now severely limited. Commercial fishing activities have dropped but illegal sport fishing seems to be on the increase especially in the summer months so we are still spending a lot of time untangling fishing line from the corals. We are currently cleaning everyday on all sites at both recreational and technical depths.
Rod's tec team pics...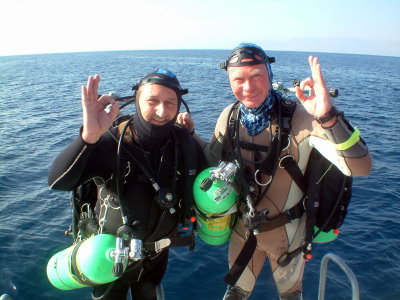 Rod designed and maintains our web site updating it on a daily basis and also moderates the forum. We are the one of the few sites in the world that validates with the "world wide web consortium"(W3C).
Thirty years of diving!
Diving has changed a lot over the years, on the left you can see a picture of Rod diving in the UK in 1979 with an old ABLJ and a home made SMB reel on the wreck of the Shirala out of Littlehampton. (Photo by Neil Tasker). On the right, a picture of Rod diving in 2009 with a state of the art Pelagian Rebreather on the wreck of the Taiyong in Aqaba. Home made SMB replaced by welding torch! (Photo by Chris Kennedy).