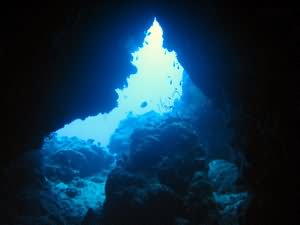 In December 2003 we brought our dive boat
Laila One
from Sharm to Aqaba. After the new year a quiet period allowed some exploration further afield. In late January 2004 a great new discovery was made. Rod Abbotson, Gareth Bruce and Klaus Noelter were making a dive to check the mooring blocks for the Aqaba Marine Park outer boundary buoys. That day the visibility was exceptional and a dark shape was noticed out to sea from the boundary mooring block, when the team swam towards the shape to investigate a new Red Sea wreck was revealed. The
Taiyong
had been discovered. Dive agencies, local authorities and all the dive centers in Aqaba were notified with recommendations for diving this new discovery, both for safety and environmental considerations.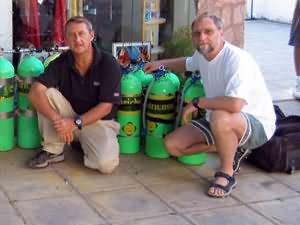 During 2005 and 2006 a lot of exploration was made by the Dive Aqaba Tec Team, joined by another permanent member
Everette Ingram
who is now a Tec Deep Instructor Trainer. Walter returned many times and was the first to take digital photographs at technical dive depths allowing us to show you the beauty of the reefs at these depths in Aqaba. The depths off the wreck of the Cedar Pride, known as
Kleta's Wall
were explored and an interesting "Hydro Box" reminiscent of Stoney Cove was discovered here by
Philip Barawitzka
who is regular visitor from Kuwait where he is currently working. He has helped Dive Aqaba improve their technical capabilities and has pioneered rebreather diving here.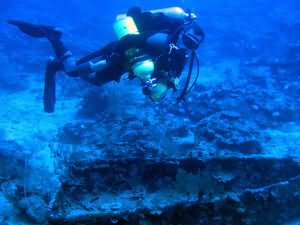 In May 2007 our tec team was asked to recover a body lost at the local Navy base. Everette Ingram,Nabeel Aqbarawi,Steve Grace and Rod Abbotson duly recovered the body. The Navy supplied us with Helium. A supply chain was then set up and Trimix diving became feasible in Aqaba. Tec Instructor Trainers Rod and Everette then conducted a
100m dive
at the
Aqaba Blue Hole
to prove to all that trimix diving was a safe option in Jordan. Thus the first Trimix dive in Jordan was carried out! The Aqaba Gas Company now supply us with grade 4.5 Helium (99.995% pure) on a regular basis. Rod has now completed his Trimix Instructor Trainer course in Sharm so we can now offer DSAT Tec Trimix courses to our tec diver guests at user and instructor level.
During 2009 and 2010 many exploration dives have been made utilising rebreathers as well as open circuit trimix diving. In 2011 many things happened starting with the
Super Falcon project
in Aqaba. Fantastic deep reef was revealed in the Moon Valley to Ashraf's grotto area, another place were 100m plus dives are possible in Aqaba. On July 29th 2011 a new depth record of
167m
was achieved seaward of the Power Station dive site, money was raised for charity and clean up dives sponsored...later deep rebreather dives revealed that the deep parts of Aqaba Blue hole and Dorits Deep merge at depth revealing a deep valley that drops to over 200m!
Exploration started at the end of the summer in 2003. Dave Evans and Chris Bowmer made several dives with the team with the mission of relocating
Kiwi Arch
that had been seen on a deep bounce dive by Rod 7 years previously! All the dives were conducted from the shore, warm up dives were made at the Saudi Border wall and Moon Valley. The arch was successfully relocated deep off Kiwi Reef in October 2003 and the Dive Aqaba Tec Team was born. The Arch is at 50m and to swim though the arch any deco cylinders need to be staged and care must be taken not to damage any of the fan corals in the arch. After the arch the reef drops away with big blocks of coral covered in huge fan corals making a great
Trimix
dive to 75m. This site is now earmarked for deeper exploration!
In June 2004 Dive Aqaba held the first technical diving course in Jordan.
Walter Dworsky
was the first diver to complete the course gaining his Tec Deep Diver certification with us that summer along with
Gareth Bruce
who then went on to complete the first Technical Instructor course in Jordan run by our Course Director
Rod Abbotson
. Now technical diving could really take off in Jordan and a more serious exploration of the deeper depths here could be started. Along with other staff and guests the tec team began to grow. Rod took the other two Course Directors in Jordan through their technical dive training - Steve Grace from the Royal Palace and his erstwhile colleague Nabeel Aqbarawi from
Seastar Watersports
.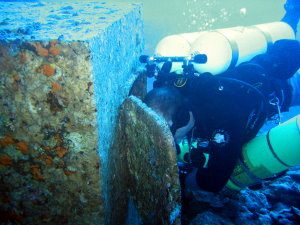 Other interesting discoveries made in those years included a small vessel lying deep of Eel Canyon in
Kirk's Forest
This was reported in our news section as the missing lifeboat from Noah's Ark! Well we have to have some fun! To the south here deep off Yellowstone reef lies a huge area of twisting canyons just waiting to be explored. A tunnel was discovered at Kleta's wall running some 50m through the reef, too small to get through in a tec rig, but good for interesting photos. Another nice archway which can be swum though was found deep off Moon Valley. In the depths of First bay, the site known as
Death Valley
has revealed areas for more exploration such as Walter's Wall to the south and George's Gulley leading to Trimix depths.
Exploration off the Power Station wall revealed amazing deep areas with undamaged pristine corals and a fantastic seascape In 2007 a dive was made to the south end of the wall where it drops steeply from 75m. A team was formed to further explore this drop off revealing an awesome site at 100m plus! Pictured left is team member
Dorit Yoseph
the first female diver to exceed 100m in Israel & Jordan. In recognition of this we named the site
Dorit's Deep.
A 131m dive there was conducted on 8th June 2008 beating both Jordanian and Israeli scuba diving depth records previously 113m for Jordan and 127m for Israel.
Full Story
On 10th October 2009 Rod & Dorit completed a 144m dive at the same place thus confirming her record.
Full Story