Successful IE Candidates
Gina Stanton, Farid Swhik & Matthew Harland travelled to Dahab via ferry and overland across three countries with our Course Director Rod Abbotson to complete their PADI Instructopr Examination after completing their instructor course with us in Jordan.
Find out what happened...if you dare!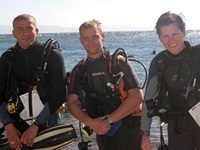 New Tec Diver
Valerie Scotto completed her Tec Deep Diver course over the last 9 days with us at Dive Aqaba after a lot of hard work with her instructors Thaer & Huw. She also completed her trimix blender course with Rod in preparation for her next visit. Next course will involve synchronized DSMB deployment from great depths in preparation for Brazil 2016....
New Team member
We now have a new feline team member, Rhiannon. She adopted Dive Aqaba as her parents a week ago and under an internship training programme during which she will learn to be nice to guests and look cute, but vicious to cockroaches trying to get into the dive kit!
Blue for Boy
Enas & David Utting became the proud parents of baby Winston on 21st August this year. David painted his whole pub blue in celebration, this made all the local newspapers so only fitting that it should be on our news page here, congratulations from all the Dive Aqaba team. For sale...lots of pink paint!
Deep Lads
Roel Schulting, Ido Szargel & Thaer Juqman completed their Tec Trimix Diver courses with Huw Lovell. A lot of work was done by all, not least in blending all the tanks everynight for the following days diving. All have now seen things in the waters of Aqaba that only a handful of divers have seen. Dive Aqaba is the only centre in Jordan offering training and diving at this level. To find out more check out our tec pages and see how to get there.
Technical Diving Courses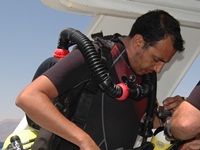 New Rebreather Diver
Munther Dajani completed a Dolphin rebreather course with us. This will be the final SCR certification for Dive Aqaba. We now only run rebreather courses on the Pelagian fully closed rebreather as the Dolphin rebreather is no longer on the market and spares are hard to come by.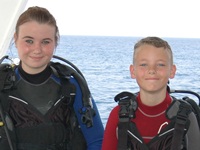 Open water to Trimix!
David Pallett and his family enjoy a couple of weeks with us this July. Emily and John gained their Open Water certification starting them in their parents footsteps. Camilla started of her technical diving by completing a Tec40 course, and John completed his Tec Deep Instructor and Trimix diver courses.
See more...
Wedding of the Year
Ashraf Sulaibi & Eimear Perry became Mr. & Mrs. Sulaibi on 30th June at a fantastic ceremony and reception at the Marine Hotel in Dublin. As well as family many friends of Dive Aqaba were present. So if you want to see more, official wedding pics, party pics and worse
click here!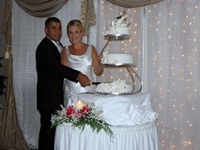 New Rebreather Diver
Fraser Cameron completed a course on the Dolphin semi closed rebreather this May. We now run courses on the Pelagian rebreather only, as the Dolphin rebreather has been withdrawn from the market and we cannot keep the unit in service due to lack of available service items.
See Fraser in action!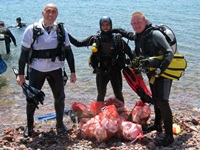 Coca Cola Clean Up
Sixty six employees of the Coca Cola Company helped to clean the beach at Eel Canyon dive site. Jamal (Jam) from the company joined our team to clean the reef here
See the full story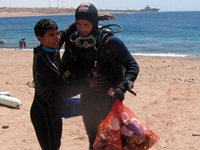 Pelagian Reunion
George Ionita, Philip Barawitzka and Rod Abbotson all got together again this Easter 4 years since completing the Pelagian course with Mark Ellyatt in March 2008. Since then all three have been regularly diving the units and continuing their education. The weather was great and flat calm at the Power Station wall where the deep dives were completed.
See the full story - if you dare!
Laila Receives Award
Owner director of Dive Aqaba received an award for excellence in business entrepreneurship. Awards were presented at a ceremony in Amman to celebrate 10 years of the rule of H.M. King Abdullah II in which empowerment of women in the kingdom has progressed, Dive Aqaba's care for the environment, training and employing underprivileged locals to a high standard, all contributed to the nomination for this award.
Reef Restoration Programme
Fishing line collected in a reef restoration programme sponsored by USAID. Thanks to Craig Bohm, the divers who participated while on holiday, the Aqaba Marine Park staff & the Aqaba Diving Association. Dive Aqaba will be now continuing the project every chance we get. The marine park will continue regular underwater maintenance using its team of experienced and well-equipped rangers. Dive centers can assist on special clean up events.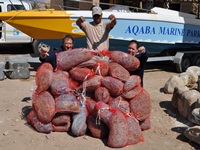 New PADI Instructors
Congratulations to Denise and Fraser on successfully completing their Instructor Examination in Dahab. It was a great road trip and once more our candidates excelled with high marks keeping up our reputation as a top Instructor Development centre in the Red Sea. Thanks to Paul and the rest of the staff at Red Sea Relax for looking after us while we were there.
Our IDC programs
Dive Aqaba becomes TDI Centre
David Maor regional manager for TDI (Technical Diving International), pictured right with technical instructor Eyal Sayag visited Dive Aqaba on 7th February to sample the technical diving we have to offer in Jordan. Later this year we will be able to offer a full range of Open circuit TDI courses along with PADI TecRec courses as well as Pelagian CCR courses. Find out more about
tec diving in Jordan