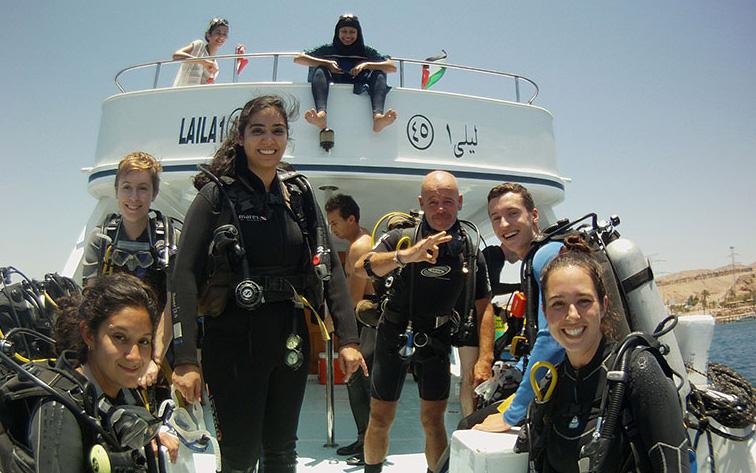 Aqaba, a haven for diving and snorkeling enthusiasts, offers a plethora of high-quality sites for underwater exploration. Dive Aqaba specializes in daily diving and snorkeling trips, providing the flexibility of diving from our boats or directly from the beach. All our scuba diving sites are also ideal for snorkelers, ensuring a remarkable experience for everyone.
Experience the exclusive access of Dive Aqaba to the esteemed old Royal Diving Centre dive sites. The breathtaking Aquarium and Coral Garden dive spots are available exclusively through Dive Aqaba's beach club. Our club is perfect for families and those seeking a relaxing day on the beach. Indulge in the convenience of our shower facilities, restaurant, private beach, and swimming pools. Our dive sites cater to divers of all levels and are particularly favored by photographers.
At Dive Aqaba, we continuously explore and discover new sites, especially in the realm of technical diving beyond 40 meters. Delve into the exploration of six captivating wrecks, including the renowned Cedar Pride. For experienced divers, the deeper wrecks of Shorouk (scuttled in June 2008) and Taiyong present thrilling opportunities. Don't miss the extraordinary Tank wreck (M42 AA Vehicle) resting in just 6 meters of water, perfect for try dives. Additionally, explore the often overlooked Tarmac Five. Excitingly, we have recently added more wrecks for divers, such as a C130 Hercules aircraft in 18 meters of water, a Tristar passenger plane at depths of 10-25 meters, and a military museum featuring tanks, guns, and other vehicles, including a helicopter. With a total of 17 fascinating wrecks to date, Dive Aqaba ensures an exceptional diving experience.
Along our coastline, Dive Aqaba boasts over 30 diverse sites, most of which are located within the Aqaba Marine Park. Experience a wide range of topographies and habitats within a small area. This side of the Gulf benefits from nutrient-rich upwelling from the depths, resulting in an abundance of marine life. Our protected and unspoiled reefs offer an awe-inspiring spectacle. Below, you will find links to each site, accompanied by recently taken photos that are regularly updated, providing insights into the current conditions and expected marine life. Explore our comprehensive descriptions of 30 recreational and technical dive sites, and click on the links to access captivating photos from each location.